With October's cold temperatures and more rain in the forecast, fall fishing has started to heat up.
Muskie anglers are starting to see an improvement in numbers and size. Lake St. Clair, Pigeon Lake and Niagara River have been producing good size and numbers of these fish of ten thousand casts. For anglers willing to travel, Lake St. Clair is an incredible fishery with world class muskie fishing.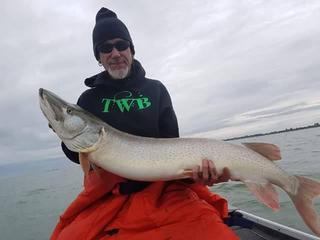 Locally there are still Salmon running up the tributaries with some steelhead and brown trout running closely behind them, feeding on eggs washing down the river.
Steelhead will take a roe bag, worm, spinner or a minnow depending on the body of water you are fishing. A lot of local rivers and streams have an extended season for fishing opportunity.
Lake Erie is still producing good numbers of walleye or how late in the season it is. Anglers are still catching on worm harness's and body baits like rippling redfins.
Get out and enjoy some great fall fishing before the ice comes.
by Greg | Oct 8th 2018 | Tags : 0