With winter in full swing now, there is a lot of local spots to get out on the hard water.
Vallens Conservation Area and Binbrook Conservation area are open for ice fishing now. These local areas offer great local fishing for Crappie, Pike and Perch. Both conservation areas are hosting fishing derbies that are also posted in the blog section of our website with all the details.
Lake Erie (St. Williams) is frozen up and fishing well for perch. The ice there can change in a moments notice, so be careful when venturing out. It is a good walk but can produce good size perch and pike. Minnows are the best option for bait out there.
Lake Simcoe is still producing good Whitefish and Lake Trout action. You will need to get out to deeper water to catch them. Vrbato jigging spoons and Meegs jigs are a great way to hook these tasty hard fighting fish.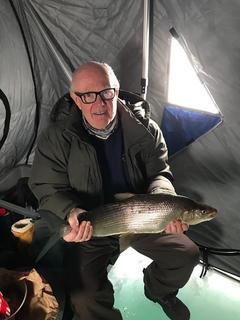 Most areas are safe for ice fishing now. Check the blog for any local derbies. Tight lines.
by Greg | Jan 25th 2019 | Tags : 0